Biographie
Biographie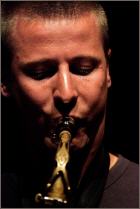 Studium:

1993 – 2000 Studium und Abschluss an der Universität Mozarteum Salzburg,
Abteilung X in Innsbruck (Musikerziehung und
Instrumentalmusikerziehung / Saxophon Klarinette und Klavier) u.a. bei Florian Bramböck und Prof Walther Kefer.

1999 – 2002 Studium an der Hochschule für Musik und
Darstellende Kunst in Wien, Abteilung V (IGP,
Saxophon der Popularmusik bei Klaus Dickbauer)

Teilnahme an diversen internationalen Jazz Workshops in New York (S.I.M.), Frauenfeld, Scheibbs, Zeillern, Wörgl, Salzburg (Dick Oatts, Gary Dial, Wolfgang Muthspiel, Jim Black, Tim Berne....).

Mehrere New York Aufenthalte mit Unterricht bei David Binney, Tony Malaby, Marc Mommaas, Marc Helias, Tim Berne, Miguel Zenon, Donny Mac Caslin, Johannes Weidenmüller, Gerald Cleaver u.v.a.


Lehrtätigkeit:

Seit 2000 Lehrtätigkeit am BORG Hegelgasse 12, 1010 Wien für Musikerziehung, Saxophon und Klarinette.

Musikalische Tätigkeit:

Organisation der Tiempo Jazz Night (Cafe Tiempo, 1. Bezirk) im Jahr 2006 / 2007 und einer Konzertreihe in der "Bierkanzlei" (8.Bezirk) im Jahr 2008 / 2009 mit insgesamt über 40 Konzerten. Mitwirkende Musiker: Flip Philipp, Alegre Correa, Klaus Spechtl, Uwe Urbanowsky, Andy Manndorff, Primus Sitter, u.v.a.

Tiroler Landestheater, Adi Hirscha -Sommertheater, Tiroler Jazzorchester, Lower Austrian Big-Band, Horny Funk Brothers, Franui, Axel Rot Big Band, Vila Madalena, Jazzorchester Vorarlberg, The Rats Are Back, Beat Street, Snow Owl, Ryan Langer-Quartett u.v.a.

Cds:

2007 New Shoes Jazz Quartett: "First Steps"

2014 Vila Madalena: "twentytwofingers"

2016 Vila Madalena: "me deixa em paz! – los mi auglahnt!"




Biography
Franz Oberthaler first picked up the clarinet and switched to alto saxophone at the age of 20. He studied classical music at Mozarteum Innsbruck and afterwards moved to Vienna to study with Klaus Dickbauer at university. After some years of teaching music and playing unregular gigs he decided to really go for music. A couple of New York trips and lessons with great musicians like Dave Binney, Tony Malaby, Mark Mommaas, Donny Mc Caslin, Miguel Zenon, Chris Lightcap, Johannes Weidenmüller and many more left deep impression on him.
In 2006 he started the "Tiempo Jazz Night" which included regular concerts in Vienna where he featured many gifted musicians and comcposer.

At his last New York stay in 2007 he was happy to make music with great musicians like Jean Carla Rodea, Gerald Cleaver, Nicolas Letman-Burtinovic, Kenny Warren, Mark Aanderud, Marcos Varela, Clemens Zecha, Wolfgang Rainer, Christioph Siegrist, Samuel Blais, Georg Tausch, Dmitri Gorodetsky, Jordan Young, Rich Johnson and many more. He was also very happy to rehearse a lot and play some gigs with his new quartet that features Bobby Avey on Fender Rhodes, Jeff Rathner on bass and David Andrew Moore on drums who are great musicians and very gifted composers as well.
Franz also attended various workshops in Austria, Switzerland and the USA. In June 2007 he has recorded the album "First Steps" wich will was released in november. Franz has already composed many new tunes for his next album which will be definitly influenced strongly by bulgarian rhythms.